High Quality In-Line Fence Strainers
Features:
Hot dipped, heavy duty, galvanized strap
Heavy duty cast Aluminum sprocket and flap
Stainless Steel spring
Made in the USA
Weight – 0.4 lbs
Dimensions – 5 in. x 2 in. x 2.625 in.
J&M Precision Die Casting's Fence Strainers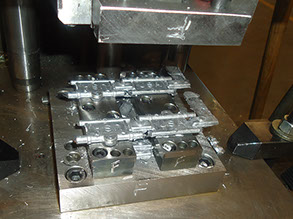 Increase the tension of your electric fence lines with J&M Precision Die Casting's high quality, durable in-line fence strainers. Our rugged wire strainers are made with a hot dipped, heavy duty, galvanized strap, heavy duty cast Aluminum for the cog / spool and flapper, and Stainless Steel for the compression spring. Made in the USA, they are durable to stand the test of time.
Why Tension the Wire of Your Fence?
Over time, fence wire will stretch. If electric fence wires aren't powered, animals quickly learn they can squeeze through a sagging fence. That's why in-line fence strainers (also called fence tighteners, fence adjusters, fence tensioners, wire stretchers, or fence stretchers) are so important. In-line fence strainers (tensioners) are used to tighten the fence wire. Generally, they are located in the middle of a fence span. You thread the wire through a strainer instead of tying an extra knot. Fence tensioners are used for fine adjustment and easy tightening action to prevent sagging of the fence, which increases the risk of entanglement and/or escape.
Wire Stretches Over Time and Seasonally
It is important to remember that wire stretches when it is warm and shrinks when it is cold. Therefore, you should always check fence tension when the weather changes. When weather cools, loosen the fence strainers if the wires are too tight. Tighten fence strainers back up when the weather gets warmer.
Fence Strainer Uses
Fence strainers are versatilely used for agricultural fencing, on barbed wire, electric fence systems, high-tensile fence, trellis wire, to tighten guide lines, and even on clotheslines at home (the best clothesline ever!) They are critical to maintaining a wire fence, as wire fences are supported mainly by tension.