J&M Precision Die Casting, Inc.
specializes in producing high quality
aluminum die castings to your specifications
Why Die Casting?
Die casting is an economical, efficient process that offers a broader range of components and shapes than other manufacturing techniques.
Parts are designed to complement the surrounding part's visual appeal and to provide long service life. Designers specifying die cast parts benefit in various ways. Die casting offers high-speed production and complex shapes with closer tolerances than most of the other mass production jobs. It is designed to be functional and strong, using the absolute minimum material.
Why High Pressure Aluminum Die Casting?
Zinc and Aluminum die casting are typically used in larger manufacturing systems.
Aluminum die casting is a process in which molten aluminum alloy is injected into a casting mold under high pressure and at a controlled temperature. Most high pressure die castings need no machining other than the removal of flash around the edge, and in some cases drilling and tapping holes. High pressure die casting production is fast and inexpensive compared to other casting processes.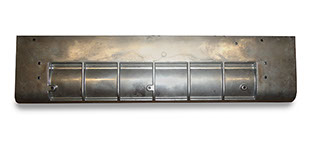 Aluminum castings are lightweight and able to withstand the highest operating temperatures of all die cast alloys. The process is renowned for strength and reliability. Used in many different industries, our aluminum die casting is cost effective and will immediately satisfy your high demands. Aluminum die cast parts offer far better quality and durability than plastic injection mold parts. Ideal for any manufacturing project, aluminum is perfect for the die casting process. Dimensionally stable and light weight, aluminum is perfect for thin walls and complex shapes.
Aluminum and Zinc die cast parts are popular due to their dimensional accuracy and uniformity. Aluminum parts have excellent mechanical properties, are resistant to corrosion, and offer good electrical conductivity and strength at high operating temperatures. Because aluminum has superior mechanical properties, it is one of the higher mass items that the metalworking industry produces today. High quality die cast parts like those found at J&M Precision Die Casting are essential for products like automobiles (improves fuel efficiency due to weight saving), computers (heat dissipating properties), furnaces, washers and dryers, and more. We offer competitive pricing, quality products and excellent customer service.
Why Near Net Shape Die Casting?
Near net shape die casting reduces your need to finish or perform other post-production processes.
J&M Precision Die Casting offers an experienced team that specializes in near net shape die castings bringing it as close to the final net shape as possible. The need for common finishing techniques, such as grinding and CNC machining, is greatly reduced. This means a more cost-effective process. Whether you are looking for zinc die casting or near net shape aluminum die castings, J&M Precision Die Casting is the place to go for all your die casting needs.