We offer a wide array of die casting
services for diverse industries.
Die Casting And Molding Services For Diverse Industries
J&M Precision Die Casting, Inc. specializes in Aluminum, Zinc alloys, and Brass die casting, tooling, near net shape die casting, high pressure die casting, and gravity feed die casting (also known as permanent mold casting). Our versatility enables us to quote competitively and cast competently, whether for long or short runs, large or small parts, simple or complex designs. We have a wide array of state of the art die casting machinery and handle many of our secondary operations, such as metal finishing and CNC machining, in house, using our extensive machining centers. All services are completed in Northeastern Ohio and our products are all Made in USA.
Services We Offer
We offer an extensive variety of die casting, machining, and finishing operations that enable us to complete your project efficiently and economically in house in our Northeastern Ohio facility. Some of the services we offer include:
Product Design
High Pressure Die Casting
Near Net-Shape Die Casting
Gravity Feed Die Casting
Many Secondary Operations (In-house)
CNC Machining
Metal Finishing
Assembly and Testing
Electrical and Aluminum Enclosures
Tooling
Mold Building
Rapid Prototyping / Prototypes
Die Cast Heat Sinks
Made in USA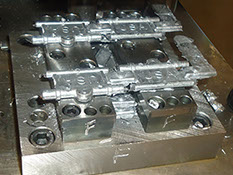 Industries We Serve
With nearly 50 years of design experience and expertise, J&M Precision Die Casting can handle any industrial die casting need skillfully and economically. J&M Precision Die Casting expertly produces Aluminum and Zinc Die Castings for a diverse array of industries including:
Aerospace
Agricultural / Fencing
Appliances
Architectural
Automotive
Computer and Office Machines
Electronics
Electric Motor
Enclosures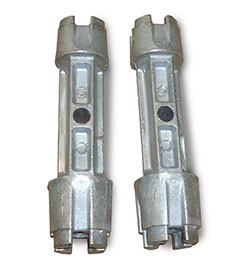 Government
Lighting
Marine / Boating
Metal Working
Plumbing and Heating (HVAC) Hardware
Timing Devices
Toys, Sporting Goods,
and Personal Goods
Transportation Industries
SPECIFIC PRODUCTS
J&M Precision Die Casting designs and creates Aluminum and Zinc Die Castings to exacting specifications. Some of the many industrial parts we die cast include:
Electric Motor Components
Locomotive Parts
Marine and Specialty Craft
Architectural Hardware
Decorative Hardware
Entrance and Exit Hardware
Panic Hardware
Plumbing Tools and Hardware
Security Hardware
Enclosures
Fluid Metering
Industrial Parts
Electro-Mechanical
Control Equipment
Agricultural / Farm Fence Supply
Fence Strainers (Fence Adjusters,
Fence Tighteners, Fence Tensioners)
Head Lamp Buckets
Household and Commercial
Lighting Fixtures and Lamp Bases
Fire Protection Devices
Pulleys and Sheaves
Hubs (for Regulators for HVAC)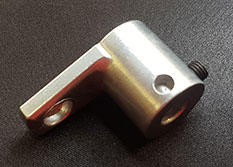 Contact Us
to Learn More About Our Die Casting Services for Industrial Parts
J&M Precision Die Casting provides the highest quality die casting solutions to meet your specifications and budget.
Contact our team to learn more about our die casting services for industrial parts today.