Reducing costs with design assistance and
our extensive manufacturing capabilities.
Manufacturing Capabilities
J&M Precision Die Casting specializes in Aluminum Die Castings and Zinc Die Castings, and now offers Brass Die Castings. We supply outstanding technical support to our customers on the entire die cast process.
J&M Precision Die Casting, Inc. operates in a 40,000 square foot facility in Elyria, Ohio (near Cleveland) (Made in USA). We have a wide array of die casting machines and secondary operations equipment to meet your needs. Our melting furnaces hold up to 10 lbs. to 1200 lbs. of metal. Because we handle many of our secondary operations in-house using our extensive machining centers, we routinely reduce costs for our customers. Our highly skilled engineers also frequently build custom machines for specific customer requirements, further reducing manufacturing costs.
We are a proud member of The North American Die Casting Association (NADCA). We are a subsidiary of Rhenium Alloys, Inc., a leading manufacturer of refractory metals and high temperature products also based in Northeast Ohio.
Our Capabilities
Zinc Production Runs Up to 300 Ton
Aluminum Injection Production Runs Up to 800 Ton
Brass Die Casting (400 to 750 tons in capacity)
High Pressure Die Casting
Gravity Feed Die Casting
CNC Machining (Production and Specialized)
Milling
Turning
Welding
Grinding
Inspection
Trimming
Drilling
Tapping
Tumbling
1st Article Inspection with State-of-the-Art CMM (PAPP)
Short Run & Long Run Die Cast Production
Net-Shape Die Casting
Close Tolerance / As Cast
Trim Dies
Engineering and CAD Design Services (Moldable Part Designs)
SolidWorks Software Design
3D CAD/ Solid Modeling of Mold Designs
Design & Build (Qc-7, Ciba REN) Plastic Prototype / Bridge Molds
Design & Build Zinc, Aluminum, and Plastic Production Molds
Mold Shop Overflow
Mold Building
Repair Work
Electrical Discharge Machining (EDM)
Complex Shapes with a high degree of accuracy
and repeatability
Our Equipment
15-300 Ton Presses
400–800 Ton Presses
CNC Turning
CNC Milling
CNC EDM (Electrical Discharge Machining)
Starrett CMM (Premis HGC 2018-16)
Measuring Capacity x20" y18" z16"
Resolution .00002"/.0005mm
VISI-Series

TM

Software (Fully integrated CAD/CAM/CAE system)
SolidWorks Software / 3D CAD
Melting Furnaces (Hold up to 10 lbs. to 1200 lbs. of metal)
Gravity Feed Presses
Two 400-Ton Cold Chambers
750-Ton Automated Casting Cell
SpectroMaxx Spectrometer
Cost Reduction and Design Assistance
Our mission is to help our clients improve the functionality and manufacturability of their designs. We review designs in detail and then provide insight and ideas to lower costs while improving performance of the end product.
J&M Precision Die Casting can reduce or eliminate secondary operations such as drilling, reaming, threading and machining on some castings, thus reducing scrap and overall cost for the finished part.
In our thorough design review, we will propose ways to tap and drill holes and openings both vertically and horizontally to lower overall cost. We also explore material usage and suggest alternatives that reduce cost. We quickly and economically machine metal-forming dies used in industrial part production.
Let us help to improve your designs and reduce the cost of your die casting projects. Contact our team today.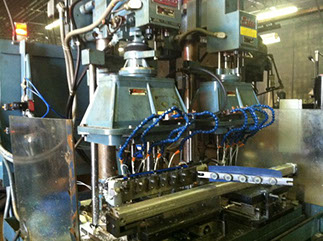 10 head CNC Automated Tapping Machine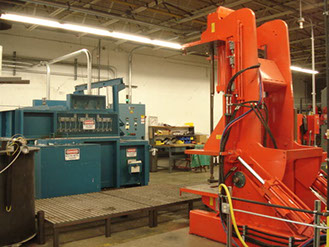 Gravity Feed Die Casting Machinery