J&M Precision Die Casting, Inc.
specializes in producing high quality
zinc die castings to your specifications
Why Die Casting?
Die casting is economical, efficient and offers a broader range of components and complex shapes than other manufacturing processes.
Die cast parts are designed to enhance the surrounding parts' aesthetic appeal and to provide a long service life. Industrial and mechanical designers that specify die cast parts benefit in many ways. Die casting offers high-speed production and complex shapes with closer tolerances than most other mass production processes. Designed to be functional and strong, die casting uses the absolute minimum material, thereby reducing scrap and waste.
Why High Pressure Zinc Die Casting?
Zinc alloys are the easiest to die cast and are stronger per weight than other materials.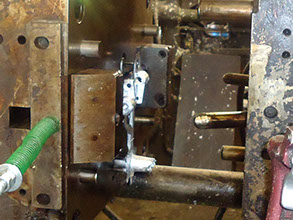 Zinc and Aluminum die castings are commonly used in large manufacturing systems. Zinc can be cast to precision tolerances, requiring less machining. Zinc allows thinner wall sections with excellent surface smoothness, and net shapes. Ductility is high and impact strength is excellent, making for a much longer tool life. Zinc molds can last up to ten times as long as aluminum molds because its die-casting process is much less corrosive to the mold.
In zinc die casting, the production cycle is the fastest of the metal casting processes due to zinc's relatively low melting / solidification temperature (379-390°C). The zinc die casting process is used to produce parts from less than a gram in weight to a kilo or more.
Zinc also provides superior adhesion for surface finishings such as plating, powder coating, and painting.
A low cost raw material, zinc is common in everyday life and zinc die castings are used in a wide variety of products and parts. For example, zinc provides the protective coating that prevents our automobiles from corroding. The automotive industry relies on it for its wear resistance and structural integrity. It is used extensively in the electronics industry, with its superior electrical performance and shielding properties. Finished products containing zinc are present everywhere, but the zinc die castings themselves are often unseen. Zinc die castings are used for household fixtures, handles and decorative hardware, machine parts, automotive parts, sensor parts, and much, much more. Zinc die castings provide us with safety, security, convenience and decoration, improving our lives around the clock.
Why Near Net Shape Die Casting?
Near net shape die casting reduces the need for post-production machining processes.
J&M Precision Die Casting has an expert team specializing in near net shape die casting, which brings your product or part as close to its final net shape as possible. Common finishing techniques, such as grinding and CNC machining, are eliminated or greatly reduced. This combined with savings in weight and materials results in cost savings in production. Whether you are looking for near net shape zinc die casting or near net shape aluminum die casting, J&M Precision Die Casting is your source for precision die casting.
Contact our team to discuss your zinc or aluminum die casting needs today.